Health Connections welcomes three directory partners to talk about the support they offer in Guernsey.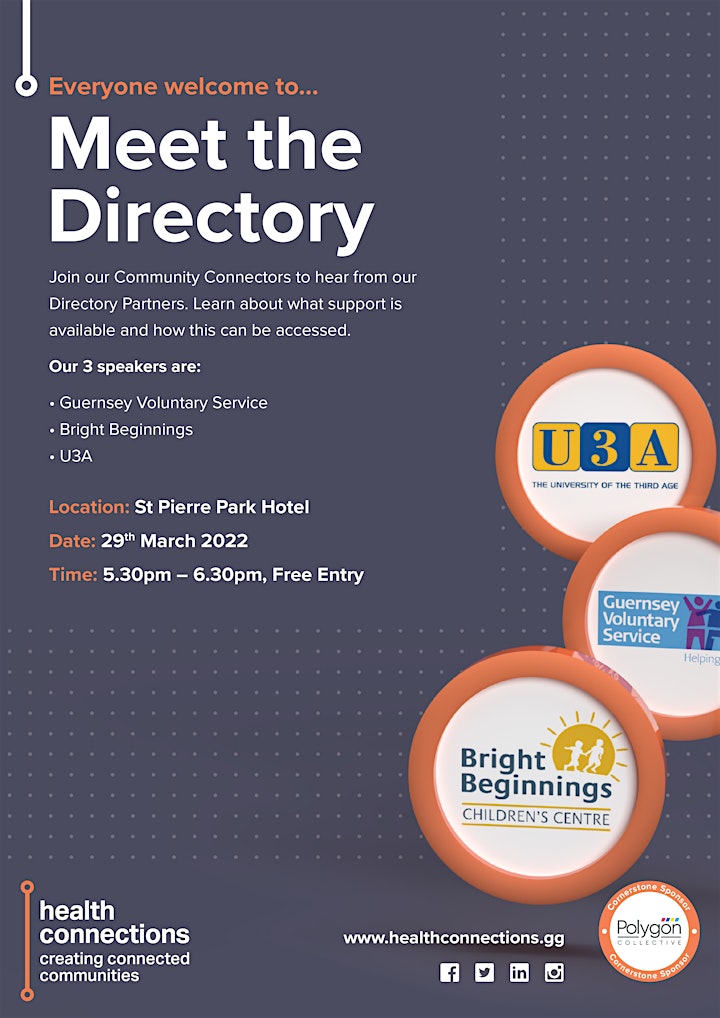 Health Connections will be hosting our first informal monthly networking event for all our Community Connectors, Directory Partners and all members of the community.
The event titled 'Meet the Directory' will be held at St Pierre Park Hotel in the Seigneurie Room on Tuesday 29th March 2022 5.30pm – 6:30pm.
The event is free and complimentary light refreshments will be provided.
Our March guest speakers are:
Bright Beginnings
Guernsey Voluntary Service
The U3A
What is 'Meet the Directory'?
Each month, three of our Directory Partners will have the chance to showcase their cause, share information on their services and how this benefits islanders as well as providing a safe space to answer any of your questions. It's also a perfect opportunity to connect with like-minded people whether they are volunteers, charities, business leaders or members of the public.
We want everyone to have the opportunity to fully discover the breadth of support and information available in the Bailiwick which will help them signpost other members of our community, and get connected themselves, to support that matters to them.
We hope these monthly events will create a more connected community within the Bailiwick; not simply for the essential purpose of information sharing but also to strengthen networks, garner a sense of social belonging and build collective resilience.
If you would like more information, please visit www.healthconnections.gg/directory or contact our Lead Community Connector on hannah@healthconnections.gg or 07781 137611.
#CreatingConnectedCommunities
#MeetTheDirectory